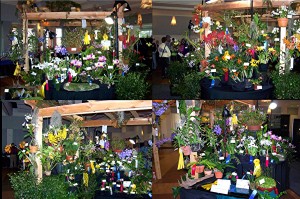 Join us for our Show and Sale this march at the Atlanta Botanical Gardens, Day Hall and Hardin Visitor Center!
The show will run from March 10th to March 12th. There will be at least 10 individually created exhibits featuring flowering orchids at their best, including many unusual and rarely seen species and hybrids, so come and enjoy the impressive displays of blooming orchid plants that will fill Day Hall with fragrance and beauty!
This will be an AOS sanctioned show that will include award judging by the American Orchid Society as well as educational classes for anyone wishing to know more about how to grow these fascinating and beautiful plants. Each of our vendors will have a sales area offering plants for sale and plenty of free growing advice.
Thursday, March 9th
Setup begins at 10am for our Vendors and Exhibitors.
Friday, March 10th
At 9am, the official American Orchid Society judging of the exhibits will begin, and the vending area will available to the public.
At noon, the exhibits will also be available to the public.
Saturday, March 11th
The show will be open from 9am until 5pm.
Sunday, March 12th
The show will be open from 9am until 4pm.
Takedown begins at 4pm.
Our Vendors for 2017